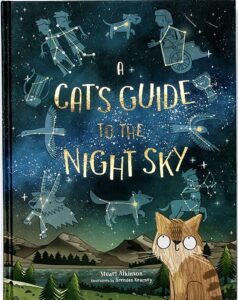 Look up at the night sky and you may see a few familiar things. The moon certainly, and sometimes planets as well as stars. But reading the night sky, knowing what the brightest stars and constellations are called, is a little like learning a language. You discover that clusters of stars have a name and are likely to be visible in your area at certain times of the year. You discover how to distinguish stars from planets and from satellites.
A Cat's Guide to the Night Sky by Stuart Atkinson is a great guide to help you learn that language and let you know what you're looking at when you gaze up. The whimsical illustrations by Brendan Kearney make it easy to understand the information presented.
A Cat's Guide starts with a list of things you'll need to find the best viewing and be comfortable while you're out. It shows the contrast between what you can see in a city, which has light pollution, to what you can see outside of an urban area.
I found the progression in the book particularly interesting. It tells about how things in the night sky were named, defines different kinds of stars, and presents the idea of constellations before showing the most prominent ones visible by season.
A Cat's Guide is the kind of book that can be studied closely before heading out in the dark to look up. And it can be kept as a handy guide to be referenced over and over again, as you learn different elements each time you go out stargazing. It's a great parent/child activity that you can do all year long.
I highly recommend it for ages nine and up.
The publisher provided me with a copy of this title in exchange for my honest review.