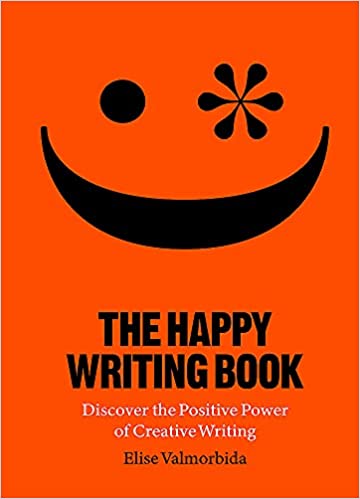 As a writer, I often look to writing advice books for ways to inspire creativity and help me continue to sit down and write on a regular basis. The Happy Writing Book: Discover the Positive Power of Creative Writing by Elise Valmorbida is one of the best books of that type I have read in a while.
First, there's the cover. The bright orange color with a smiley face illustration (an asterisk for one eye looks like a wink) makes me want to leave it out where I can see it and easily pick it up to read. Also, I took it with me on a few appointments to read while I waited, and every person who saw it commented on how they wanted to read it too. And they weren't even writers! Sometimes, the biggest challenge in looking at an advice book is being inspired to open it, and The Happy Writing Book is definitely compelling.
But the real value is in the content. The book is divided into sections titled, Happy Beginnings, Happy Middles, and Happy Ends. The sections contain 100 micro-chapters laying out tips, suggestions, and ideas to help writers get started, hone their craft, and keep writing. I found myself reading through all the way once, and making notes about chapters I want to go back and revisit to try the suggested exercises. The list is long.
Now that I've finished a first reading, I have started to go back and look at certain areas more closely. I also can easily see picking the book up and opening to a random page to get re-inspired at any point and jump start a piece of writing.
I recommend The Happy Writing Book for any writer or anyone who wants to write aged 12 and up.
The publisher provided me with a copy of this title in exchange for my honest review.