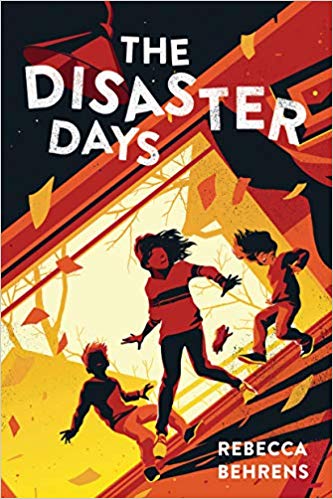 Hannah
Steele is a little nervous when she agrees to babysit her neighbor's two
school-age children. It's only her second time babysitting, and all the adults
she knows will be off the remote island where they live near Seattle. But it's
only for a few hours, so she agrees to do it. When a major earthquake hits,
Hannah finds herself stranded in a wrecked home with no prospect of adults
arriving for several days. Somehow she has to keep herself, the kids, and their
pet hamster safe, warm, and fed until help arrives.
The
Disaster Days by
Rebecca Behrens is not only an interesting story about Hannah and the
challenges she goes through after the earthquake, it's also a primer on how to
be prepared in the event of a major emergency. With windows shattered, the
refrigerator blocked, and cold and dark settling in, Hannah must look for
things that will help them survive: a flashlight, bandages, food, water, safe
shelter, and warm blankets. A hand-cranked/solar radio also comes in handy so
she can get news about what's going on in the outside world. As I read, I found
myself tallying up the things in my own home that I would need if disaster
struck, and making a list of things for my own emergency kit.
Young readers could also enjoy reading about Hannah's adventures, then working with their parents to assemble a kit in their own homes and talk about what they needed to troubleshoot any situation when there's no power or cell service to rely on. Hannah finds help in old encyclopedias, a Girl Scout Handbook, and other printed materials she finds at home.
I
highly recommend The Disaster Days for mother-daughter book clubs and readers
aged 9 to 12.
The publisher
provided me with a copy of this title in exchange for my honest review.