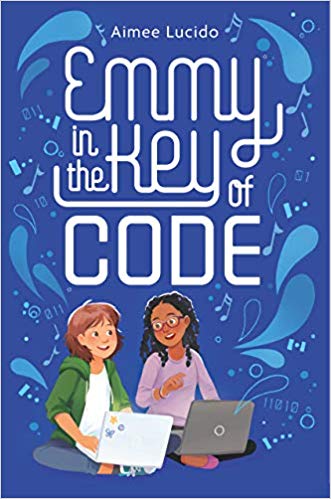 When Emmy's family moves from Wisconsin to San Francisco for her dad's job, she feels like she doesn't fit in. Everyone at her new school already seems to have friends and be involved in activities. When her teacher asks students to fill out a form designating their preference for an elective class, Emmy knows she should check off music. After all, she's been in music lessons all her life. Still, it's not really where her heart is. When she's randomly placed in a coding class with a few boys and one other girl, she finally finds something that calls to her and figures out how to make friends.
Emmy in the Key of Code by Aimee Lucido can be a great introduction to coding for kids who are unfamiliar with it as well as a confirmation of what feels great about coding for those who already like it. But it's also a lyrical novel, told in verse that almost reads as music. It's about creativity, reaching beyond the known to find something new, and being confident enough to speak out on your own behalf.
Emmy navigates stress at home, where her mom is taking on unfamiliar work in a new city and her dad is practicing for his big debut in the San Francisco Symphony Orchestra, while also figuring out how to be a good friend and avoid a bully. It's a lot for a twelve-year-old to manage. Yet something in coding speaks to her and helps her learn how to manage the challenges in the rest of her life.
I recommend Emmy in the Key of Code for mother-daughter book clubs and readers aged 9 to 12.
The publisher provided me with a copy of this title in exchange for my honest review.