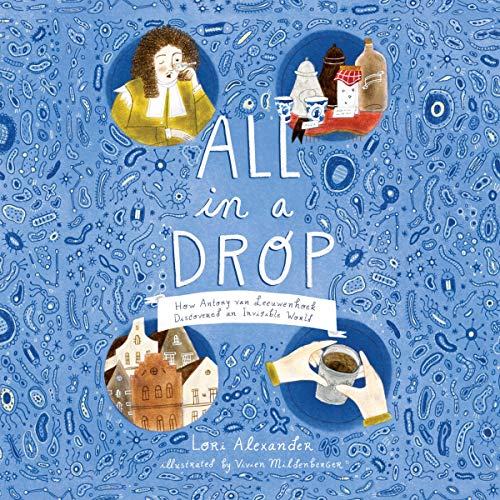 Anthony van Leeuwenhoek was an unlikely man to contribute significantly to the world of science. All in a Drop: How Anthony van Leeuwenhoek Discovered an Invisible World, a chapter book by Lori Alexander, tells the story of how this curious man became interested in things that can only be seen through the lens of a microscope and ended up identifying never before seen micro-organisms.
Born in the early 1600s in Delft, Netherlands, Anthony became a tradesman selling cloth. Wanting to be sure his cloth was of the highest quality, he built a magnifying glass to help him see how tightly woven the fabric was. That experience made him more interested in what he could see with a microscope, a fairly new invention. Intrigued by stories of how organisms looked under early forms of microscopes, Anthony set out to build his own, even though he had no science background or formal training.
At first, scientists were reluctant to accept his findings, but he persisted and eventually was recognized by the Royal Society in London. All in a Drop is a fascinating tale about how persistence and curiosity can lead to amazing discoveries. Vivien Mildenberger's illustrations provide a charming glimpse into life in the 17th century Netherlands as well as depictions of what Anthony saw in the microscopes he built.
All in a Drop combines science and history to make an intriguing book for young readers aged 8 to 11.
The publisher provided me with a copy of this title in exchange for my honest review.