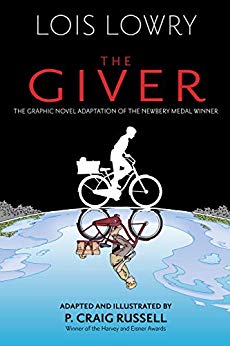 Both of my daughters loved reading Lois Lowry's The Giver, a story of a future world where only one person in society takes on the role of keeper, the person who remembers what life used to be like when it wasn't regulated by the government: there was pain, and war, and disease, color, birdsong, and joy to be found in simple pleasures. Each generation the keeper becomes the giver, when he transfers those memories to someone new. The book is a much-beloved classic that has also become a play and a movie. Now it is also a graphic novel.
P. Craig Russell adapted Lowry's story for the graphic novel format. He also created the illustrations. The result is a beautiful rendition that stays true to the story while also creating new ways to appreciate it. The format is likely to attract new readers as well as please those already familiar with the tale.
A Q. and A. at the end with Lowry gives insight into how she feels about her story becoming a graphic novel. Another Q. and A. with Russell uncovers the challenges he faced adapting the original. He also talks about the technique he used to make his black and white illustrations more visually interesting to readers.
This graphic novel adaptation of The Giver is a great edition to keep on your bookshelf to read over and over again, finding something to discover and appreciate in the story and illustrations each time.
The publisher provided me with a copy of this book in exchange for my honest review.