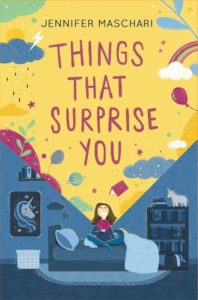 Emily Murphy's best friend Hazel is excited about starting middle school and changing her old self into something new. But Emily already likes herself: she's a girl who loves the Unicorn Chronicles series, her dog Bean, and all things sparkly. Suddenly feeling very uncool, Emily worries her best friend is moving in another direction. There's also tension at home, especially after her sister returns from a treatment center where she's been getting help for anorexia. To find a path forward, Emily will have to figure out what's most important to her and learn how to go for it.
Things That Surprise You by Jennifer Maschari captures an often challenging time for kids growing up: the transition from elementary to middle school. The kids are bigger, schools are often larger, and options for before- and after-school activities increase. It's usually an emotional time with some kids maturing faster than others, leaving some who want to cling to the comfort of what they already know and others ready to embrace the new. As Emily tries to figure out how to handle the transition at school, she's also navigating tension at home, both with her sister and her divorced parents. It's a lot for her to handle.
As a former middle-school teacher, Maschari seems to understand the age group well. Emily has to deal with isolation in the lunchroom, rejection by her friend, decisions about potential new friends who are not popular, and more. She benefits from the help of a caring teacher and a counselor at her sister's treatment facility.
I highly recommend it for mother-daughter book clubs with girls aged 9 to 12. The girls should enjoy reading about issues they see at school or anticipate in the years ahead, and Emily's journey of self-discovery should provide lots to talk about with their moms.
Read my interview with author Jennifer Maschari.
The publisher provided me with a copy of this book in exchange for my honest review.
Save
Save