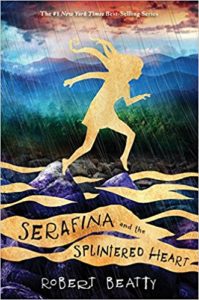 Robert Beatty's Serafina series comes to an end with lots of what fans have come to love about the books, with Serafina and her friends fighting a powerful enemy set on destroying the Biltmore estate and the people Serafina loves.
Serafina and the Splintered Heart is action-packed, but it's also reflective, with Serafina considering what makes life important. In many ways she has matured over the course of the three books, learning how to hone her skills at fighting and protecting her friends while becoming more capable of carrying out a strategy to defeat evil forces. In the Splintered Heart, she gathers wisdom from her own experience as well as advice from her Pa to figure out what she needs to do to prevail.
But in addition to working with her friends, Serafina must also join forces with an old enemy, someone she isn't sure she can trust. Readers are left wondering the same thing until the end, and the mystery enhances the story.
On a side note, I discovered from a GoodReads post that Beatty has written the series with the help of his three daughters. How cool is that? Here's what he had to say:
"It's one of the great honors in my life that I can write the story of an extraordinary young heroine not only FOR my daughters, but WITH them. It's not just my way of teaching them, but LEARNING from them as they grow into the people they are becoming.
I've written each of the Serafina novels with my three daughters, who are active and enthusiastic co-creators as we explore the grand corridors of Biltmore Estate together or climb up into the rugged beauty of the Blue Ridge Mountains where the story takes place."
Beatty's author's note at the end reveals what he's working on now, a book called Willa of the Wood. I'm excited to know that he'll be exploring Serafina's world in new ways, and I look forward to finding out where his imagination takes readers.
The publisher provided me with a copy of this book in exchange for my honest review.