Here's a roundup of some great picture books I recommend, some that you can read to your two year old, some that are great even for 8 year olds.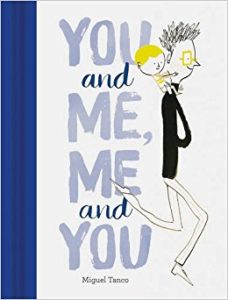 You and Me, Me and You by Miguel Tanco — Ages 4 to 6
As a dad and his son go through their day, the boy tells the dad about all the benefits he brings by helping the dad see the world through his eyes. Together the two of them play, stop to notice little things in nature, talk to strangers on the bus, read, tell stories, and more. The last two pages sums up what it means to be a parent in simple and beautiful terms: "I show you how to look at the world from below…and, even though I am small, I help you to grow."
Illustrations are simple and ample white space help them stand out. You'll enjoy reading this sweet tribute to dads for years.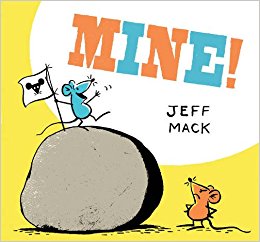 Mine! by Jeff Mack — Ages 3 to 5
It's hard to imagine a picture book with only one word, yet parents with more than one child will know that a complete story can be told just around the word, "mine." Jeff Mack's delightful book tells the story of two mice. One stands at the top of a rock planting a flag and declaring it's his. Another mouse looks up with a frown and schemes to lure the first one down so he can say the rock is his. The two escalate tactics for replacing each other on the rock until they get a big surprise at the end. It's a cute depiction of sibling rivalry that will surely have kids giggling.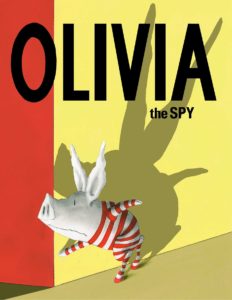 Olivia the Spy by Ian Falconer — Ages 4 to 8
The cutest pig in the world gets a lesson about eavesdropping in the continuing Olivia series. When Olivia overhears her mom talking on the phone to her aunt about the mess she made making blueberry smoothies, Olivia decides to spy on her to learn more. The trouble comes when Olivia only hears parts of conversations and interprets them wrong.
It's fun to follow along on Olivia's misadventures in all kinds of household disasters and spying sessions.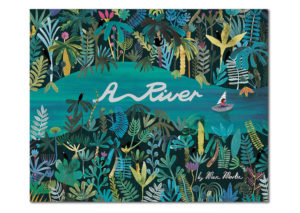 A River by Marc Martin — Ages 4 to 8
Go on a journey from a young girl's bedroom into the wider world of the river that runs below her window. In her imagination she travels from her urban jungle with its tangle of streets full of cars and high-rise buildings, through farmlands and forests, and to an actual jungle that gives way to the open ocean. During her trip she sees man-made and animal wonders before returning to her own now-dark skyline to sleep.
Illustrations have deep, rich colors that carry readers along with the girl as she journeys.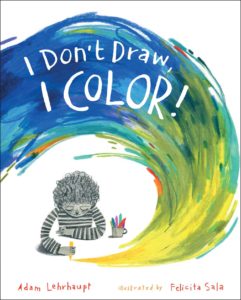 I Don't Draw I Color by Adam Lehrhaupt — Ages 4 to 8
A child who sees that his drawings aren't technically as precise as what others can do knows how to express his emotions through color on the page. Felicita Sala's illustrations capture bright and muted emotions expressed in lines that can be straight, jagged, or squiggly. When the child is asked to draw a self-portrait, it's the combination of colors and lines that show how he sees himself. It's a great way for kids to learn how to express complex emotions that they may not be able to easily communicate in words.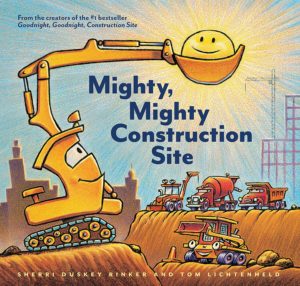 Mighty, Mighty Construction Site by Sherrie Duskey Rinker and Tom Lichtenheld — Ages 2 to 5
Fans of Goodnight, Goodnight Construction Site are sure to be thrilled with this sequel. Five mighty trucks wake up in the morning revving their engines and gearing up for the day. They meet in the construction yard where they dig trenches, break up boulders, haul dirt, lift beams and pour cement. Illustrations look similar to colored-pencil drawings, making them feel familiar and accessible to kids while also being crisp and detailed. It's a fun addition to the first book, and it's sure to appeal to your child's wonder at how things work.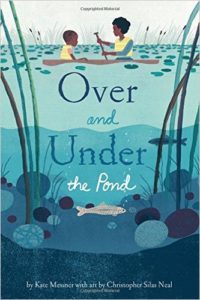 Over and Under the Pond by Kate Messner — Ages 5 to 8
As a mom and her son paddle their canoe on a pond, they take a trip of discovery about the plant and animal life that call the watery habitat home. Over the pond is where cattails, red-winged blackbirds, moose, herons, raccoons, and beetles thrive. Under the pond live crayfish, beavers, tadpoles, and trout.
Christopher Silas Neal's artwork has sharp and fuzzy edges, just what you'd expect in a world that is clear above and flowing below. As the afternoon turns into evening, the sky changes from clear, to sunset tinged, to starlit. It's a beautiful journey for the reader as well as the mother and son on an adventure. Notes in the back give details about all the animals mentioned that live in or near the pond.
The publisher provided me with copies of these books in exchange for my honest review.
Save
Save
Save