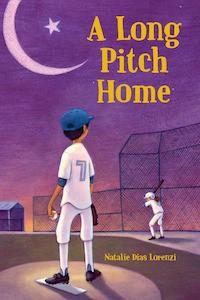 Natalie Dias Lorenzi is the author of one of my favorite recent books for readers aged 9 to 12, Flying the Dragon (read my review). So when she got in touch to ask if I wanted to review her latest book, I was happy to say yes.
Like Flying the Dragon, A Long Pitch Home features a protagonist being uprooted from his home country and coming to live in the U.S. where he must make many adjustments. Despite the challenges, Bilal is up to the task.
To learn more about the author, visit her website, nataliediaslorenzi.com. Now, here's my review of A Long Pitch Home.
When Bilal is 10, his family moves from Pakistan to the U.S. But Bilal's father can't join them; he's under suspicion of stealing from his company, and he must stay to clear his name. Bilal, his mom, younger sister, and baby brother move in with his aunt and uncle in the Washington, D.C. area, where Bilal works hard to fit in. He finds a connection through playing baseball, making friends when he joins the team. But he's confused why none of his new friends like the girl on the team, Jordan. In the time Bilal waits for his dad to join them, he will learn lessons in English and in friendship, and he will need to take a daring risk to finally get his most cherished wish.
A Long Pitch Home by Natalie Dias Lorenzi introduces readers to Pakistani culture while telling a story with universal appeal. Bilal is a lot like any 10 year old. He wants friends, he wants to enjoy playing a sport, and he wants to feel like he fits in at school. Most of all, he wants his family all safe and happy in one home. Throughout the book he is on a journey of discovery about a new culture and a new language. But he is also discovering what it means to be a good friend as well as to have good friends, and how sometimes that means risking the approval of others.
Lorenzi weaves in facts about Pakistani culture and Muslim practices seamlessly, bringing Bilal and his family to life while keeping the story of his efforts to fit in and make friends in focus. While there's a lot going on in the book, it never feels forced. As a result, readers are likely to relate to Bilal and his struggles even as they learn about his religion, Pakistani food and history, playing cricket, and more. I highly recommend A Long Pitch Home for mother-daughter book clubs and any readers aged 9 to 12.
The author provided me with a copy of this book in exchange for my honest review.
Save
Save
Save
Save