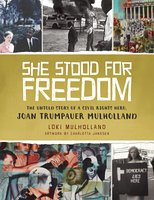 In the late 1950s and early 60s, Joan Trumpauer was a teenager living in Virginia. The times were turbulent in the South, as court decisions went against the "separate but equal" mindset of race relations, and schools and other venues were ordered to integrate. Joan was white, but she believed that everyone should be treated equally. As she grew older, she participated in the Civil Rights movement, getting arrested and beaten time and again.
She Stood for Freedom: The Untold Story of a Civil Rights Hero, Joan Trumpauer Mulholland, tells not only the experiences of one person, but also of the struggle that gripped the South during those years. It's difficult to understand how Americans, black and white, were dragged from barstools at diner counters and beaten simply because they believed it was unjust to treat one race inferior to the other.
The dangers were real, as quite a few people working to create change were murdered for their actions. Joan continued to work for the cause even after she married and started a family. In a poem she wrote for herself to explain what she did, Joan wrote in part that she did "nothing but act like an American," who was a Christian and had read the Declaration of Independence.
She Stood for Freedom is written by Joan's son, Loki Mulholland, and it contains artifacts she kept from the time, including a letter written by her jailer in Mississippi to her mother, questioning how parents could allow their daughter to act the way she did. It's all very sobering in an age appropriate way. Readers 9 to 12 will learn more about this recent period in American history. This book and a companion picture book for younger children were both illustrated by Charlotta Janssen. The images as well as old photos, flyers, and more, evoke the times and should inspire interest in this movement that still resonates in issues today.
The publisher provided me with a copy of this book in exchange for my honest review.