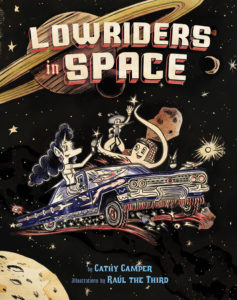 Lupe Impala, El Chavo Flapjack and Elirio Malaria dream of one day opening their own car repair shop. When they hear about a competition that gives away a car load of cash for the winning car, they set out to turn a rusty old heap into a winner. Their quest takes them around the universe gathering special features to make their car really shine.
Lowriders in Space by Cathy Camper celebrates the spirit of hard-work and innovation in pursuit of your dreams. The three friends use a combination of their skills to transform an old clunker into a winner. They get just a little bit of help along the way from our galaxy of stars.
The story is also a celebration of lowriders, cars made to go low and slow. A note at the end of the book explains the history of lowriders and their popularity. Spanish phrases throughout are translated.
As a graphic novel about automobiles, Lowriders in Space should have particular appeal to boys, but girls should also be able to appreciate the story. lllustrations are mostly in red, blue and black, which gives it a kind of retro look. Artist Raúl the Third includes a note that he drew in ballpoint pen to "revisit the excitement" he felt as a kid when he drew. The result is fun, interesting, and may inspire others to pick up a pen and draw. I recommend it for readers aged 8 to 12.
The publisher provided me with a copy of this book in exchange for my honest review.
Save