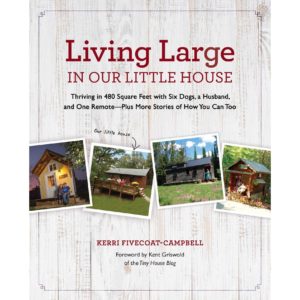 When Kerri Fivecoat-Campbell and her husband Dale built their 480 sq. ft. home on a lake in the Ozarks, they had no idea they would end up living in it full time, or that they would be at the forefront of a tiny house movement across the country. Yet since 2007 they have shared these tight quarters with up to six dogs at a time, and Kerri gives advice to others on how they can transition to smaller abodes as well.
In Living Large in Our Little House: Thriving in 480 Square Feet with Six Dogs, a Husband, and One Remote—Plus More Stories of How You Can Too, Fivecoat-Campbell recounts the couple's journey and also highlights how other couples, singles, and families with children across the country are "living large" and living happily in a small space.
Fivecoat-Campbell, who is also a journalist, writes with candor about the struggles she and her husband have faced as well as their triumphs. She's also quick to point out that she's not a tiny purist, as she and Dale have space for storing equipment and other items on their property. But I didn't find that to lessen her core message that scaling back and living simply brings rewards of many kinds.
Living Large in Our Little House is part memoir, part how-to, and totally inspiring. Anyone considering downsizing is sure to get ideas that will help them plan for getting what's most important to them when making the move.
The publisher provided me with a copy of this book in exchange for my honest review.
Save
Save