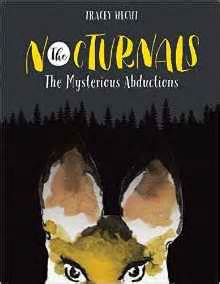 Animals are disappearing at night, and it's up to the nocturnals, creatures who are normally awake at night, to solve the mystery. Banding together are a pangolin, a fox, and a sugar glider. Other animals getting in on the action include a wombat, a group of echo-location challenged bats, a band of coyotes and more.
The Nocturnals: The Mysterious Abductions by Tracey Hecht is the first in a series that aims to introduce readers to Australia's mammals while leading them on an adventure. The animals have to use their strengths, rely on teamwork, and be a bit daring to solve the mystery. The answer to the disappearances is wholly unexpected, and it adds a new element to the story.
The Nocturnals is appropriate for readers aged 9 to 11 to read on their own, but it also works as a parent-child read aloud for kids as young as six. And while young readers have fun following the action, they'll also be learning about traits of the animals featured in the book. It makes for a winning combination of facts and fiction that I expect will entice kids to seek out the next books in the series.
The publisher provided me with a copy of this book in exchange for my honest review.