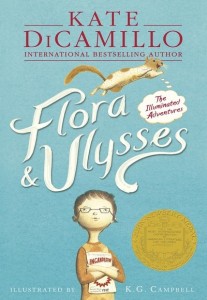 Flora Belle Buckman knows all is not right in her world. Her parents are divorced, her mom writes romance novels even though there is no romance in her life, and she misses the time she spent reading about a superhero, the Amazing Incandesto. But life for Flora begins to change when she rescues a squirrel accidentally vacuumed up by a neighbor. Suddenly she's caught up in an adventure with a squirrel superhero, his arch nemesis, a boy in need of a friend, her reliable dad, a philosopher, and a helpful neighbor.
Flora & Ulysses by Kate DiCamillo is a tender, sweet story about a girl and the amazing squirrel that helps her sort out the important things in life. Little bits of wisdom come from those all around her, and Flora ponders those as well as observations she reads in the books about Incandesto. She borrows from it all to solve her problems and expand the community of people she cares about.
Young readers aged 9 to 12 will fall in love with Ulysses, a squirrel who types poems and dreams of eating a giant doughnut, who is totally devoted to Flora. A few graphic novel-like sequences help readers feel as though they know all the quirky characters in this lovable story. I highly recommend it for mother-daughter book clubs to talk about issues of friendship, family dynamics, reaching out to others in time of loneliness, and more.
I purchased a copy of this book to review.