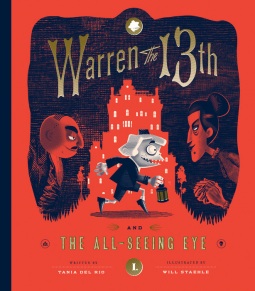 Ever since Warren the 13th's dad, Warren the 12th, died, things have gone downhill at his family's hotel. Established years ago by the first Warren, it used to be known for its excellence. But in the five years since Warren's Uncle Rupert took over, business has dwindled to zero and all the staff except the chef had to be let go. Warren the 13th does what he can to keep the place in shape, but there's only so much a 12 year old can do in a day. Particularly when his uncle's mean wife, Aunt Annaconda, punishes him regularly.
Things start to pick up though, when Aunt Annaconda discovers the legend of the all-seeing eye, something reported to be hidden somewhere in the hotel. She's sure the eye possesses powerful magic, and she decides she must find it. Enter two of Annaconda's witch sisters, a hotel full of guests also searching for the eye, a witchy apprentice, a squiggly creature and more. In the midst of the action is Warren the 13th, a strange looking boy with a big heart and the desire to make everything come out right.
Warren the 13th and the All-Seeing Eye, written by Tania del Rio and illustrated by Will Staehle, is great fun to read. Warren is a lovable if unlikely hero, and both his allies and enemies have big personalities that reveal themselves as the story moves along. Illustrations are all in black, white and red, setting the tone for a tale that has just the right amount of creepiness and some mystery for readers as young as 8, but is sure to satisfy even 12 or 13 year olds.
As the first book in a planned series, it hits the mark with a compelling story, a satisfying end, and the promise of more interesting stories to come. I highly recommend it for kids book clubs and individual readers.
The publisher provided me with a copy of this book in exchange for my honest review.