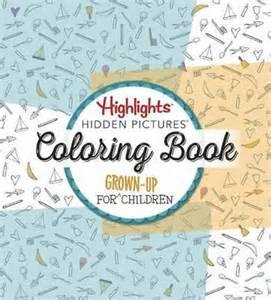 When I was growing up I used to love reading Highlights for Children magazine every month. When my own daughters were born I wanted to provide the same reading experience for them, and so subscribed for many years as they were growing up. Perhaps our favorite page of the magazine was the hidden pictures. Just as I had sat down with my own mom years before, I sat with my children and had fun looking for shapes hidden inside other objects. It's amazing the joy that can be found in such a simple activity.
So I was excited to see that Highlights has released a collection of its Hidden Picture puzzles that also tap into the new coloring book craze for adults. Called Highlights Hidden Pictures Coloring Book for Grown-Up Children, the book contains familiar images such as the toothbrush, banana, sailboat, spoon, and a heart, as well as others. It's great nostalgic fun to sit down and find them all in each illustration. I found myself coloring the hidden pictures one color so they would stand out, and then filling in the rest of the items with interesting shades that I would not normally choose.
With more than 80 illustrations containing the hidden images, there's more than enough to keep me doodling for many hours. I may decide to share this coloring book with my daughters, but it's entirely possible I will keep it all to myself.
The publisher provided me with a copy of this book in exchange for my honest review.