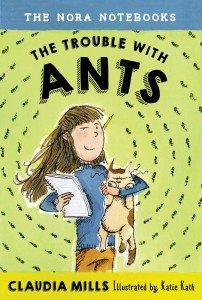 Nora Alpers likes making observations and collecting facts, particularly about the ants in her ant farm. As a budding scientist, she knows that facts can be used to draw logical conclusions. Nora is happy to help her friends take care of their dog or watch her classmate's cat videos, but she'd really like to get more people interested in ants.
Ants aren't the only things Nora is good at observing. She notices that two of her classmates argue a lot but seem to secretly like each other. She sees that some girls in her fourth-grade class are more interested in boys, clothes, and tea parties than others. And she learns from a school assignment that persuasive arguments can get people to change their minds.
Claudia Mills has created an inspiring heroine in her debut book for The Nora Notebooks series, The Trouble With Ants. Nora is thoughtful, inquisitive, creative, and she is engaged with people and the world around her. She's a good friend, even when her friends are into things that don't interest her. Nora's love of science, and her observations about girls and women in science, are good issues to discuss. They may also inspire girls to look at science a little differently than they did before.
The Trouble With Ants is a great start for a promising series. I highly recommend it for readers aged 8 to 12.
The author provided me with a copy of this book in exchange for my honest review.