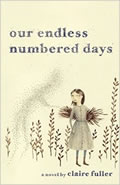 Eight-year-old Peggy's father is obsessed with being able to survive in a disaster. She has to practice packing a rucksack and being ready to flee in minutes in case the need arises. Peggy's mother is a renowned pianist from Germany who tolerates her husband and her friends. But when Peggy's father tells her to pack her bags one day and they set off from their home in London, she doesn't know that home will become a remote cottage in the German wilderness and that she won't see her mother or civilization again for another nine years.
Together, Peggy and her father survive by trapping forest animals, growing vegetables and making do with the few things they found in the cabin and they brought with them. Peggy believes the world outside has ended, and they are the only two people left alive. Her father's deteriorating mental condition forces a series of events that eventually conclude with her return from the woods.
Told from Peggy's point of view as a 17 year old recovering from her ordeal and an eight year old experiencing it, Our Endless Numbered Days by Claire Fuller is lyrical and heartbreaking and complicated. Peggy's point of view as a child is superbly captured. Believing her mother and everyone else in the world dead, she trusts her father completely and depends upon him for survival. Yet readers know Peggy leaves the woods for some reason, and the mystery compels the story forward.
Fuller's descriptions of the forest are vivid and she lets her characters show themselves through small and big actions that bring them fully to life. Despite my skepticism that anywhere in Germany is remote enough (or was in the 1970s and 80s when the story takes place) for there to be no evidence of life outside the clearing (not even an airplane overhead?), I found the story compelling. And while I would have liked to know more about how Peggy reacted to and dealt with her growing body and the changes that puberty brought, I found it a poignant and thought-provoking tale exposing the vulnerability and trust children must place in their parents for their own survival and what happens when that trust is breached.
The publisher provided me with a copy of this book in exchange for my honest review.