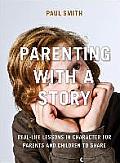 Often the best way to help our kids learn something we think they should know is to tell a story that helps them see how others faced life situations. The trouble is, we often can't think of relevant stories when the need arises. Paul Smith hopes to change that, with his book, Parenting With a Story: Real-Life Lessons in Character for Parents and Children to Share.
Smith has a background of finding success through telling stories. He is the author of Lead With a Story, which is geared to business people who are seeking success at work. Parenting With a Story moves that concept from the business world to the family. Exactly 101 stories are included in the book, culled from Smith's acquaintances to match life lessons in more than 20 areas—humility, respect for others, and friendship, for instance.
In each case, Smith talks about the value or character trait and illustrates it with a couple of examples. I found all of the stories interesting and relevant, and found myself wanting to share them with my husband and daughters as I read. The challenge is remembering those stories and also coming up with real life examples from your own life when you find yourself needing to impart wisdom. Smith has suggestions for that too.
At the end of the book is a chart listing the subject of each chapter and the stories that illustrate the lesson. He also gives ideas for discovering stories of your own, which I think is particularly helpful.
Like Smith, I really believe telling stories is a more lasting way of getting a point across to your children than telling them what you think they should do. Anything that opens up conversation between the two generations, no matter how old they are, is likely to lead to more understanding and the passing on of wisdom and knowledge. Parenting With a Story should be a good resource for you to turn to over and over again.
The publisher provided me with a copy of this book in exchange for my honest review.