Today I'm taking part in the blog tour for Liz Prince and Tomboy: A Graphic Memoir. I highly recommend the book for two reasons: it's an interesting story with great graphics to help tell it, and it can generate a discussion about the expectations others put on us to behave in certain ways. I have one copy to give away to a reader with a U.S. address. To be entered into the drawing, leave a comment below about why Liz's story appeals to you. Just be sure to comment by midnight (PST), Tuesday, November 4.
Check back in tomorrow when author Liz Prince stops by for an interview. And if you'd like to see other stops on the tour, visit the blog tour page at Zest Books.
Here's my review: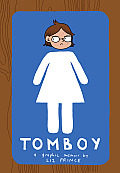 Growing up, Liz Prince was considered a tomboy. She liked to wear boys' clothes, keep her hair short, and she was the only girl in her local Little League. Liz was just behaving in a way that felt right for her, but other kids didn't like the fact that she didn't fit into her expected gender role, which meant she was bullied. While she avoided doing "girly things," she was also attracted to boys, a combination that didn't often work out for her. With the support of a core group of friends, and her discovery of comics and zines that speak to her creativity, she forges a path of acceptance for herself.
Tomboy: A Graphic Memoir is Prince's story about her experiences growing up. It shows that even with supportive parents and close friends, life can be difficult when you don't conform to people's expectations. Prince reveals her struggle with candor, and I expect that many readers who feel like they don't "fit in" in some way will relate to her experiences. Her illustrations create scenes from playgrounds and in classrooms that do a great job of capturing how she thought and acted through the year.
Tomboy should be a great way to start a conversation about gender expectations, both for boys and girls (Prince's younger brother was bullied for growing his hair long like a girl's). I highly recommend it for book clubs with members aged 14 and up.
The publisher provided me with a copy of this book in exchange for my honest review.