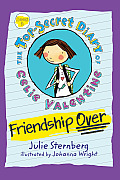 Today I'm part of a blog tour to introduce a new series for young readers: The Top-Secret Diary of Celie Valentine and its first book, Friendship Over. As part of the tour, I have one copy to give away to a reader in the U.S. Just be sure to comment on this post and tell us something you appreciate about a close friend. Leave your comment by midnight (PDT), Monday, October 13. And check back tomorrow when I will feature an interview with the author, Julie Sternberg. Also, see a list of the other stops on the blog tour following my review.
Review:
For her 10th birthday, Celie's dad gives her a punching bag and a diary, so she can take out her aggressive feelings on something other than her sister and write down her thoughts. Over the course of a few weeks' time, Celie comes to value both gifts.
Lots of big issues are on Celie's mind. Her formerly best friend Lula isn't talking to her anymore and her teacher refers them to a program to help them work out their problems. Her sister Jo has a new friend that Celie doesn't like. And her grandma may be experiencing a few health problems, which causes everyone in the family to worry. It's a lot for a 10 year old to deal with.
Friendship Over by Julie Sternberg is the first in a new series for young readers aged 8 to 11. The book explores not only issues of friendship, both Celie's and her sister's, but also issues that come up in families. Celie's voice is fresh, honest and quirky. She likes to know what's going on in her family, and she gets frustrated when adults think she's too young to be clued in on important matters.
Johanna Wright's illustrations capture Celie's spirit, which shows her at times defiant, puzzled, worried, angry, loving, happy, bored, and creative—in short, everything you'd expect from a young girl trying to make sense of life as she grows up. Friendship Over is a delightful first book for the series, and I highly recommend it for book-club readers aged 8 to 11 and their moms.
The author provided me with a copy of this book in exchange for my honest review.