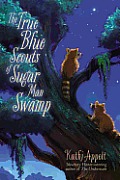 Today I'm thrilled to review this great new book for young readers. I'm also excited to feature an interview with author Kathi Appelt tomorrow as part of her blog tour. Check back in then to see what she has to say about the delightful world she created in The True Blue Scouts of Sugar Man Swamp.
Here's my review:
J'miah and Bingo are raccoon brothers who live in the rusted frame of an old De Soto, deep within the Sugar Man Swamp of southeastern Texas. They know their job is important—they must listen to the Voice of Intelligence and wake up the Sugar Man if the swamp is in danger.
Chap is a 12-year-old boy who makes sugar pies with his mother in a café at the edge of the swamp. Their landlord has just told them to come up with a boatload of cash or he'll evict them. The landlord also plans to pave over the swamp to make money with an alligator wrestling tourist attraction. These young heroes have the same thing in mind—save the swamp—but they each have their own thoughts about how they will do it.
The True Blue Scouts of Sugar Man Swamp by Kathi Appelt brings together creatures great and small in a serendipitous tale that will make you laugh, learn a little, and maybe even wipe a tear or two as you pull for the underdogs. A lot of elements come to play in the story—alligator wrestling, a lost De Soto with Polaroid photos, mischievous raccoons, canebrake rattlesnakes, pirates, an ancient oath, wild hogs and more. Appelt weaves these threads together to create a rich tapestry of a story that doesn't trip up even once. With vivid writing style that tantalizes all the senses, she keeps the pace moving and the story spinning until the last satisfying page.
I highly recommend The True Blue Scouts of Sugar Man Swamp for mother-daughter book clubs with girls aged 9 to 12. Even readers as young as six can enjoy the story with a parent reading it to them.
The author provided me with a copy of this book in exchange for my honest review.
Save