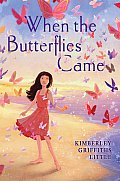 When Tara Doucet's Grammy Claire dies unexpectedly in a car accident Tara feels as though her whole family is falling apart. He mom disappears in depression and grief, her older sister retreats into her bedroom, and her dad has recently left the family to live in another state. Tara isn't sure what to do to pull them back together when something magical starts to happen. Butterflies appear and soon after a letter from Grammy Claire shows up.
The letter contains a mystery, a key and a clue to another letter. Tara discovers that Grammy Claire was afraid that her research on a tropical island had attracted the attention of someone who wanted to take it, someone who may be willing to cause her harm to get it. She calls on Claire to solve the mystery through a series of clues that will lead her to a solution that may protect something precious.
When the Butterflies Came by Kimberley Griffiths Little focuses on the importance family members play in our lives while weaving a tale of mystery and fantasy. Tara feels the importance that Grammy Claire has entrusted something significant to her. As she learns things about herself along the way, she also becomes determined to forge a stronger relationship with her sister and help her mother emerge from depression.
Readers aged 9 to 12 will find a lot to like in Tara's journey of self-discovery set along the bayous of Louisiana and the islands of Micronesia.
The publisher provided me with a copy of this book in exchange for my honest review.