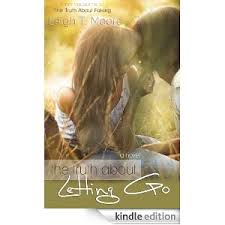 When Ashley's dad dies after a months-long battle with cancer, she finds that thinking of him is too painful. To numb the pain she decides to change her life. Instead of church-going, rule-following, nice-girl Ashley, she becomes risk-taker, bad-girl Ashley. Soon she finds she needs to keep ramping up her actions if she wants them to keep the pain down. And with her mom numbing her own pain through constant work, there's no one she can talk to and help her figure out how to step back from the brink.
The Truth About Letting Go by Leigh T. Moore is a sensitive look at dealing with the pain of loss. Ashley doesn't want to be who she was before, because life for her is no longer the normal it was before her dad's illness. Her first forays into change are with people around her she would have never noticed before: a girl who lives nearby and struggles with weight issues, a nerdy boy who is debating becoming a minister. But she's not ready to give anything to them yet, she can only take. When she meets a bad boy who is known for the trouble he creates, her own actions escalate out of control. The question is, will she get past her pain and decide how she wants to go forward with her life before she does something that will cause irreparable damage?
Mother-daughter book clubs with girls aged 14 and up will find complex issues to discuss when reading The Truth About Letting Go: Why do bad things happen to people we love even though we pray they don't? How can we get through personal loss without changing into a person we no longer recognize? How can we stick to our values even when we question what those values mean?
The author provided me with a copy of this book in exchange for my honest review.