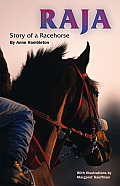 Author Anne Hambleton has given us a glimpse into the life of a thoroughbred through the horse's point of view in her novel, Raja: Story of a Racehorse. When Raja is born his owner, a sheikh from the Middle East, has high hopes for racing him. At first it seems that Raja will fulfill those hopes, but his fear of lightning leads to an accident that ends his career before it's even begun.
This sets off a chain of events that sees Raja end up with a variety of owners, some good, some bad, and move from one purpose to another. Along the way, readers get an interesting look at and education about the variety of ways horses interact with humans. Raja learns dressage and steeplechase. He also discovers that not all horses race. For instance, some are set to work in fields, while others are police horses. Some owners treat their horses well and develop special bonds with them, others see them merely as a means to an end, like winning races or keeping a farm going. Some owners don't know how to care for horses, and the animals suffer from neglect.
Through the eyes of Raja readers see both the good and the bad, and they get a feeling for how much horses (and other animals) depend on the humans in their lives to protect them from harm. Raja's connections to the people who care for him, his fears of lightning and the "kill buyer" at auction, his love of running and open pastures, all combine to make his story both touching and educational. You'll cheer him on to the very last page.
The author provided me with a copy of this book in exchange for my honest review.