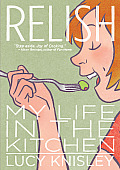 Lucy Knisley is a graphic artist who also writes about food, travel and life in general. She grew up with parents who not only loved to eat good food, but who gave it to their daughter from the beginning. Knisley combines her artistic ability with the story of her childhood and early adult adventures with eating and cooking in her graphic novel, Relish: My Life in the Kitchen.
Knisley's stories of her early life in Manhattan and her days spent on a farm in upstate New York are interesting. She's got a sense of humor and a down to earth writing style that's endearing. For instance, she talks about the gourmet food her parents cooked for her, but she also talks about her cravings for junk foods and McDonald's fries. Her story of being on her own in Mexico with her good friend while their moms were sick is really funny, and so is her story of trying to make the perfect croissants like the ones she remembers eating in Venice.
Each chapter ends with a recipe relevant to the story that came before it. My favorite was "Tough Cookie," where Knisley tells of learning how to bake chocolate chip cookies as a way to make friends every time she moved to a new school. The recipe that follows is called, "The Best Chocolate Chip Cookies," and since I tried it out myself I can say that's no exaggeration. There are a couple of "secret ingredients" that deviate from my normal cookie recipe, and that made the finished product so yummy.
There are other recipes I plan to try, like those for sautéed mushrooms, huevos rancheros and spaghetti carbonara. I can recommend Relish as a light-hearted, interesting memoir that's fun to read and keep for the recipes.
The publisher provided me with a copy of this book in exchange for my honest review.