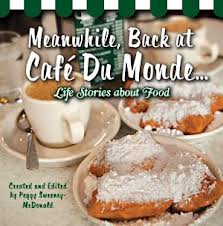 Anyone who has ever visited New Orleans has probably also been to Café du Monde, the iconic home of powdered-sugar-drenched beignets and chicory café au lait. Even if you haven't visited, chances are you have your own Café du Monde, a place you like to go where you love the food and you feel at home when you go there with friends. That's the spirit author Peggy Sweeny-McDonald captures with her beautiful coffee-table book, Meanwhile, Back at Café du Monde… Life Stories about Food.
Threads of Café du Monde run throughout the book, which even has an introduction from the restaurant's owner, Karen Benrud, whose grandfather purchased the café in 1942. But most importantly, the stories and recipes are what shine through.
Nearly 70 writers, most from Louisiana, California and New York, weigh in with a story about food, either a special memory, a special dish, or what food has meant to them over the years. Some of the stories are funny, while others are poignant. Some include recipes, including the stories of famed New Orleans restaurateur Leah Chase of Dooky Chase and Michael Regua, executive chef at Antoine's Restaurant.
I couldn't wait to try out some of the recipes and I wasn't disappointed. In addition to the fig preserve cake with chocolate ganache icing and the okra and shrimp casserole I loved, you'll find others for lasagna, gumbo, cobbler, pralines, biscuits and more. Photos, some from the storyteller's childhood and others taken by Troy Kleinpeter, capture the spirit of each writer and chronicles the real-life productions where most of these stories were presented before being collected for the book.
Sweeney-McDonald straddles the worlds of Louisiana, where she was born, and California, where she is president of Superstar Events-LA. Her vision led to the start of the shows in 2010. Meanwhile, Back at Café du Monde… can inspire your book club members to talk about their own food stories. You may particularly like the way each story starts out, with the writer saying, "If I were a food, I'd be…" And of course, you could serve some of the yummy recipes to be found inside.
The publisher provided me with a copy of this book in exchange for my honest review.