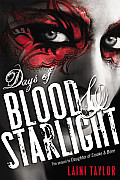 In Daughter of Smoke and Bone, Laini Taylor created a world where angels and creatures are pitted against each other as two star-crossed lovers, Karou and Akiva, strive to bridge the gap and bring peace to their worlds. In the sequel, Days of Blood and Starlight, Taylor once again weaves her magic, ramping up the conflict and making the reader question a world of endless war where both sides suffer tragic losses.
Where the first book held out hope and possibility, much of this one is focused on the brutality that comes when two races set out to destroy one another. Both the seraphim and the chimaera are led by ruthless rulers who would like nothing more than total domination of the world they live in. In this tale, Karou and Akiva are at odds, separated by grief and the belief that they are powerless to really change the minds and hearts of their brethren. Hope for a different outcome is planted as a small seed that begins to grow until each of them feels confident and strong enough to act against the powers that lead them.
Like the first book in the series, Days of Blood and Starlight is fast-paced and breathtaking as it hurtles toward resolution. Taylor excels at the details of the fantasy world she has created, yet the story never gets lost or drags as she paints those details. I am sure I am not the only reader impatiently waiting to read the next installment of Karou and Akiva's journey.
I recommend the series for mother-daughter book clubs with girls aged 15 and up.
The publisher provided me with a copy of this book for review.