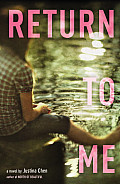 Reb, short for Rebecca, is looking forward to trading her home on remote Lewis Island in Washington State for the bustle of college life at Columbia. She can't wait to escape from her stifling mother and live her own life. But that life takes a few twists and turns: first her parents announce that the family is moving to New Jersey for her dad's new job, then after everyone moves across the country, Reb's dad says he's leaving to be with another woman.
Reeling from the changes, Reb suddenly starts to question everything she knows about her mother, her father, her boyfriend, other family members and her future. Answers start to come only after she seeks sanctuary from the pain and starts to listen to her inner convictions.
Return to Me by Justina Chen looks at a time that is challenging for most teens, leaving home for the world of college, and adds the stress of a family breaking up. For Reb, it's a wake up call to really look at people the way they are, not as she wishes or expects them to be. She also realizes that she must listen to her own inner voice and put more trust in it as opposed to following what everyone expects her to do.
This is a great book for mother-daughter book clubs with girls ages 14 and up to read and discuss. First, there's a mother-daughter book club in the book, and groups may want to talk about how the fictional characters supported each other during hard times and how a real life club can do that as well. Also, high school and pre-college can be very confusing for girls, who often don't know what they would like to pursue after high school and how they make decisions about what to do. Talking about Reb's situation may help them come to some realizations of their own.
The publisher provided me with a copy of this book in exchange for my honest opinion in this review.