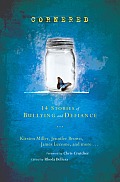 Cornered: 14 Stories of Bullying and Defiance looks at bullying from several points of view: through the eyes of the bully, from those who are being bullied, and from others who stand on the side and feel powerless to stop what's happening. Edited by Rhoda Belleza, the stories are written by both acclaimed and emerging young adult authors. None of them flinch from the hard truths in the stories they have written.
This honesty makes it hard for readers to look away as they read stories about teens who are beaten up by their tormentors or taunted and emotionally abused in front of classmates and in cyberspace. While it's easy to picture boys as being bullies, girls are often bullies as well. And their victims? They are often the kids who don't fit into the norm in some way. They are gay or lesbian or accused of being so even if they aren't. They often are physically small and have no one to confide in about the abuse. Their home lives may be in turmoil. They hope to fly under the radar long enough to make it out of high school and escape their bullies forever.
In recent times there has been much said about bullying, how to raise awareness of it and how to stop it. While programs aimed at reducing it are undoubtedly doing some good, there is little chance that bullying will be eradicated. Books such as Cornered are important bring reality into the equation. It looks at the humanity of those who are victims, and, as hard as it may be to believe there is humanity in those who victimize, it looks at that as well.
Some of the stories are difficult to get through. Others have more of a lighthearted feel where victims triumph. All of them will take your breath away. I recommend Cornered for mother-daughter book clubs and any reader aged 14 and up.
The publisher provided me with a copy of this book in exchange for my honest review.