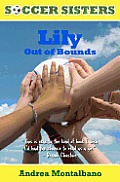 Lily James lives and breathes soccer. She and her teammates, her soccer sisters, have drawn up a code of conduct with 10 rules to live by. But when a new girl, Colby, subs on the team in a couple of tournaments, she leaves Lily questioning some of those rules.
In Colby's mind, anything is acceptable in a game if it helps you to win. And breaking rules off the field is acceptable if you have fun doing it. Lily has to decide whether to stick to the code or go along with Colby's rules.
Lily Out of Bounds, the first in a new Soccer Sisters series by Andrea Montalbano, does more than look at the game of soccer and how it's played, though there's plenty of soccer play in the book. It also looks at how teens and pre-teens handle the challenges of facing peers who push them in directions they are not sure they want to go.
Lily is confused about Colby's actions. They help the team to win on the field, and off the field they are a lot of fun. But going along means she has to lie to people she cares about and play in a way that doesn't feel right to her. Once she begins to see that Colby's actions do have consequences, she's more able to determine for herself what's right and wrong.
Soccer Sisters, with Lily Out of Bounds as the first book, is a promising new series for girls aged 9 to 13.
The author provided me with a copy of this book in exchange for my honest review.