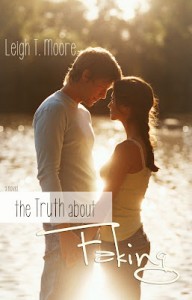 When Harley starts to fake-date Jason as a way to get Trent to like her, she knows she's got to keep her mind on what's important: getting Trent as her boyfriend. After all, ever since he rescued her after she bumped her head in sophomore year, she's known he was the one for her. Trouble is, she has a lot of fun with Jason and he's easy to talk to.
Things also get more complicated when Harley's mom is accused of an inappropriate relationship with one of her massage students and her dad's jobs as a minister may be in jeopardy as well. When everything comes to a head, Harley learns a lot about her friends, her family, herself, and not rushing to judgments
The Truth About Faking by Leigh Talbert Moore is funny and thought provoking and in some ways achingly familiar to my own high school days. Harley falls for Trent because she's sure anyone who looks as good as he does has to be a great guy. Her schemes to "accidentally" meet him outside math class every day, and her plans to make him jealous by dating someone else will resonate with anyone who has tried to get a guy to notice her.
The substory about Harley's mom and dad adds a lot to the book as well by bringing up some huge issues to discuss: If a friend asks you to keep something secret, even if the truth would get you out of trouble, should you keep the secret anyway? How much should you consider "appearances" and what "everybody will think" when you decide on your actions? What role does God and religion play in helping to solve everyday dilemmas?
Moore manages to bring up very important issues without including teenage sex, so The Truth About Faking is appropriate for older middle school kids as well as high school readers. I recommend it for mother-daughter book clubs with girls aged 13 and up.
The author provided me with a copy of this book in exchange for my honest review.