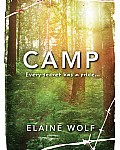 When Amy's Uncle Ed buys Camp Takawanda for Girls in Maine, her dad signs her up for the eight-week summer program even though she doesn't want to go. Amy's mother, who is unemotional with Amy, is even harsher with her younger brother, who has autism. Amy knows she needs to stay home to run interference between the two of them, and because Charlie is closely bonded with her.
But when summer comes Amy finds herself on a bus from her home in New Jersey to the woods of Maine, and right away she knows she doesn't fit in with the rest of the group. The camp bully, who has Amy's cousin on her side, also harasses her. Through the long weeks of camp, Amy learns to find her voice, make friends with some of the other girls, and remembers a disturbing incident with her mom when she was younger. But it's not until camp ends that a shattering event will let her truly understand her mother and herself.
Camp by Elaine Wolf explores some really tough issues: bullying, strained mother-daughter relationships, finding your voice, and a hint of sexual abuse. These are all important issues to discuss, and a mother-daughter book club with girls 14 and over is a good place to discuss them. Though at times I felt the camp bully and Amy's mother were too extreme in their actions, and I would have liked to know more about their motivations earlier in the story, I found Amy's story—she's caught between a needy brother, rigid mother and controlling campmate—compelling and thought-provoking.
The author provided me with a copy of this book to review.