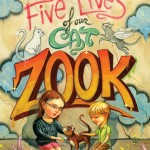 I loved being able to recommend good books for middle-grade readers, which is roughly defined as readers aged 9 to 12, The Five Lives of Our Cat Zook is one of those, so read on for the review, and check back tomorrow for an essay from author Joanne Rocklin about the power of telling stories (check back tomorrow for the essay).
Ever since Oona found Zook, short for zucchini, in the alley by their apartment, the kitty has been a big part of her family's life. He helped comfort Oona's dad when he was dying of cancer, and he's a constant companion to Oona and her little brother, Fred. But when Zook gets sick and has to stay at the vet's office, Oona and Fred both worry that he won't make it.
To distract Fred, and to buoy up her own spirits, Oona tells him that cats have nine lives, and Zook is on his fifth. She creates imaginative stories about all the adventures their kitty has had in his other lives, and while she talks she also helps Fred learn how to spell by drawing rebuses, which are puzzles that combine pictures and letters to suggest a word.
In between telling stories of Zook, Oona worries because her mom is hanging out more and more with a man who lives around the corner. Plus, Oona is keeping a big secret about the day she found Zook. She's not sure how she's ever going to tell the truth, but she knows the day is coming when she'll have to.
The Five Lives of Our Cat Zook is a sweet book about a thoughtful 10-year-old girl who is still grieving for her father and is determined to do what she can for her beloved cat. You'll fall in love with Oona, who knows that important words are spelled in all caps and has what she calls the "Rainbow Whopper Theory" about lying—blue whoppers save "your scaredy skin," black whoppers are told to hurt someone, yellow whoppers leave important information out…and so on.
Oona loves her little brother, and she wants to protect him as well as help teach him. She's a big help to her mother, but she also resents that her mother seems to be moving on with her life after her dad's death. She's determined to think bad things about the man her mother is spending time with.
Oona is quick to judge, but she's also quick to revise her opinion. Deep down she knows what is right, but she struggles to always do the right thing. By the time you turn the last page of The Five Lives of Our Cat Zook, Oona will have worked her way into your heart and will stay there for a while. I highly recommend the book for mother-daughter book clubs with girls aged 8 and up.
Check the author's website for a sample chapter, an activity kit that you can use during a meeting, and a link to the book trailer.
The author provided me with a copy of this book to review.
Save