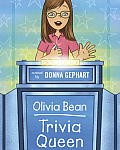 Donna Gephart, who previously penned the funny and thoughtful books as if being 12-3/4 isn't bad enough my mother is running for president! and How to Survive Middle School, has another great book for middle-grade readers aged 9 to 12 coming out next week. It's called Olivia Bean, Trivia Queen, and here's my review.
Ever since she can remember, Olivia Bean has loved to watch Jeopardy! It used the be the thing she did with her dad, before he left the family in Philadelphia and went to California with Olivia's best friend's mom. Now she watches the game show every night on her own, and sometimes she knows the answers when the adult players don't.
So when Olivia finds out that testing for Kids Week is coming up, she knows she has to try out. Not only that, she's got to win a spot on the show. That way she'll get to visit the studio where Jeopardy! is filmed, which is near where her dad lives. With only 15 kids from around the country chosen to compete, Olivia will have to be extra sharp to earn a spot of her own.
If you like trivia, you'll love Olivia Bean, Trivia Queen by Donna Gephart, but even you if you don't there's a lot to fall for in this story of a 12-year-old who misses her dad, is worried about her mom, and is making other adjustments in her life too.
For one thing, there's the boy next door, Tucker, who used to be her friend but now he seems mean. For another, she hasn't really made any other close girl friends since Nikki left for California. Olivia's dad, who is a gambler, seems more interested in his new life than in the family he left behind, and her mom has been laid off from her journalism job. Olivia's younger brother likes spouting gross trivia, and she resents her mom's boyfriend. It's a lot for a pre-teen to deal with.
But Olivia is strong, and you'll cheer her on as she tackles life's triumphs and disappointments while learning a lot about herself and the people who love her. I highly recommend Olivia Bean, Trivia Queen for mother-daughter book clubs with girls aged 9 to 13. For a study guide, visit Gephart's website and click on the "For Educators and Librarians" tab.
Also, if your book club reads Olivia Bean, you can email the author and ask for the Free 9-page activity/reading guide created by a school media specialist. Just visit: http://www.donnagephart.com/free-readingactivity-guide.html and request it.
The publisher provided me with a copy of this book for review
.