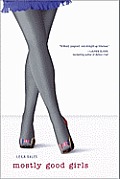 Violet has high expectations for her junior year at the exclusive all-girls school she attends in Boston. She's always had to work hard for whatever she achieves, and she's willing to put in as many hours as it takes to increase her chances of getting into a good college. But she soon finds out that in more ways than one, this year will be nothing like she hopes it will be.
Mostly Good Girls by Leila Sales reveals a sometimes hilarious, sometimes thoughtful, always entertaining behind-the-scenes look at the high-stress environment of an all-girls prep school. The administration encourages girls to be inclusive, which means the emphasis is always on not hurting anyone else's feelings. Violet gets this, but she also believes it encourages mediocrity in some cases.
Mostly Good Girls delves into quite a few issues—sex, underage drinking, eating disorders, cutting—all of which girls in Violets school deal with. But these issues are approached in an intellectual as opposed to emotional way, so the book comes across as more thoughtful than depressing.
At the core of the story is Violet's shifting relationship with her best friend, Katie, who seems perfect on the outside. Katie is wealthy, she doesn't have to work hard for what she achieves, and yet she is deeply unhappy with the expectations put upon her. When she rebels against those expectations and starts acting out in unexpected ways, Violet feels that her world is unstable also. Their relationship could generate interesting discussions about what happens to a friendship when one of the friends changes and starts to do things the other doesn't approve of. There is also a great opportunity to talk about going along with activities your friends suggest even if you don't feel comfortable doing those things.
I recommend Mostly Good Girls for mother-daughter book clubs with girls aged 15 and up.
The author provided me with a copy of this book.