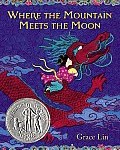 Minli loves to listen to the stories her father tells her about the Old Man of the Moon and kingdoms far away. She works tirelessly next to her parents in the dirty fields near her small Chinese village, and the tales cheer her up. Minli's mother believes that stories are a waste of time, that they only put fanciful ideas into Minli's head, when she should be concentrating on bringing more food to the table. While Minli dreams of one day bringing prosperity to her village, Ma believes it can't be done.
When Minli meets a magical fish who tells her how to find the Old Man of the Moon, she sets off on a journey to ask the wise man how her village can change its fortunes. Along the way she meets with many adventures, and she discovers that her father's stories may not have been fanciful tales after all.
Where the Mountain Meets the Moon by Grace Lin is a story of belief, hope, and the desire to take action to change your life for the better. It's also about friendship, love and wisdom. Lin weaves Minli's story in with the old tales beautifully, and Minli's journey unfolds gently as she travels farther from home. The accompanying illustrations enhance the story and bring it to life. I highly recommend it for mother-daughter book clubs with girls aged 9 to 14.
The publisher provided me with a copy of this book to review.