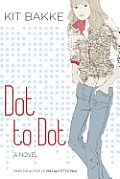 Twelve-year-old Dot is grieving from her mother's sudden death when her Aunt Tab decides that the two of them need to travel from their home in Seattle to England. Dot would prefer to stay locked safely inside her home, but Aunt Tab believes she needs a change of location to help her focus on something other than her grief.
Dot soon discovers that England is not a random destination choice. It turns out her mother named her—Dorothy Mary Jane—after three well known literary women: Dorothy Wordsworth, Mary Wollstonecraft and Jane Austen. As she discovers more about each of these women, she works to find the strength she needs to carry on in a world without her mother.
Dot to Dot by Kit Bakke is the story of a girl who goes on a journey of distance that turns into a trip where she discovers a lot about herself as well as the people around her. As Dot learns more about each of the women she was named after, she finds out why her mother chose them as heroines. Her own reading of their works also gives her insight into her current situation.
Mother-daughter book clubs with girls aged 10 to 13 will be able to talk about many issues, including the nature of grief, finding hope amidst tragedy, and the extraordinary times that produced Dorothy, Mary and Jane.
The author provided me with a copy of this book for review.