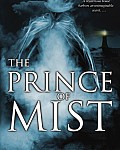 Carlos Ruiz Zafon is the master of writing great tales with dark undertones, and The Prince of Mist hits the mark as a gothic tale for young adults. To escape the ravages of war in their country, Max's family moves to a home at the seaside, not realizing it comes with a past. Years before, the previous owners' son drowned within sight of the home, and it has lain vacant ever since.
In addition to the past tragedy, Max can feel that something evil resides nearby, and he begins to dream about the garden behind the home, where creepy statues of circus performers reside. Max notices that the statues have moved to different positions each time he goes there.
But there are things for Max to like in his new surroundings too, including his new friend Roland, who teaches Max to dive to a nearby shipwreck in search of treasure. When Max's sister, Alicia, strikes up a relationship with Roland, the three become inseparable. Then they discover the rest of the story about the drowned boy and the prince of mist.
It turns out Roland's grandfather, the local lighthouse keeper, has been keeping vigil over the area to keep the prince of mist from coming back to claim another life, one the prince feels is rightfully his. They all work together to uncover the mystery at the prince's core, before he comes back to strike again.
While the story leaves more questions asked than answered at the end, The Prince of Mist is a good introduction to other Zafon works, such as The Shadow of the Wind, The Midnight Palace, and The Angel's Game.