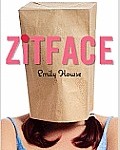 Olivia likes being in commercials; she's saving the money she gets paid in a fund for college, and she hopes the ads may be a springboard to more serious acting later. So she's thrilled when she gets hired to be the daughter in a new ad campaign for Wacky Water…that is until her face breaks out with acne for the first time ever. Soon Olivia is seeing a dermatologist and taking medication, and her life is full of stress. She's worried that her new boyfriend, J.W., won't like her if she's broken out, that she'll be fired from the ad campaign, and that her single mom doesn't have much time to be with her any more.
Zitface by Emily Howse takes a look at several big issues for teens: the desire to look perfect, the fear of rejection by your friends and others if you don't, getting acne, having a first boyfriend, and dealing with recently divorced parents (one of whom is starting to date again). It's a lot to tackle in a novel, but Howse does a nice job of taking the reader into Olivia's world. She's cute and well liked, but she's still vulnerable to rejection when her body starts to change. Her friends are changing too, and Olivia isn't sure she likes the way they act anymore. In the end, she has to decide what's really important to her, and let go of what's not. Mother-daughter book clubs with girls aged 11 to 14 should find lots to talk about.
Author Emily Howse provided me with a copy of this book to review.