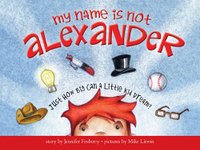 As a follow up to her delightful picture book, My Name Is Not Isabella, where a little girl dreamed about being like famous women in history, author Jennifer Fosberry has turned her attention to famous men and a little boy who dreams of being like them.
In My Name Is Not Alexander, a dad wakes his young son, saying, "Good morning, Alexander. It's time for breakfast, and then let's play ball."
Alexander says, "My name is not Alexander!"
"Then who has been sleeping in my son's bed?" asked the father.
His son tells him that he is "Theodore, the greatest, grandest president who ever was!"
As the day goes on Alexander switches his name and character to be Thomas Edison, Chief Joseph, Fred Astaire and Jackie Robinson. Once, he even says he's Daddy, someone else to admire for sure.
I really loved the eclectic mix of men Fosberry chose for Alexander to admire. Each achieved great things in his own way, and the historical facts included about the "Men Who Changed the World" are included in the back. These can be great discussion starters with young readers, both girls and boys.
Mike Litwin's illustrations are fun and creative. Their colored-pencil-like rendering could also be a way to encourage your kids to get out their own colored pencils and start drawing. It's hard to go wrong adding this book to your list for your own kids or as a gift for any young ones you know.
I received a copy of this book from the publisher. Please see me review policy for more info.
Save