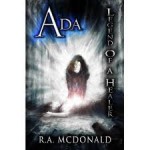 Ada has bounced around from foster home to foster home since her mother abandoned her when she was very young. When she's kicked out of her foster-home-of-last-resort, an aunt she's never met agrees to take her in. But Ada discovers Jessie is not really her aunt. Plus, Jessie has strange healing powers that make her the target of powerful people who want to control her, and Ada does too. Through Jessie, Ada finally learns a lot about herself and where she comes from.
Ada begins a journey of self discovery that leads her from the Pacific Northwest to France as she searches for her mother and works to elude the people who would lock her up for her abilities.
Ada: Legend of a Healer by R. A. McDonald raises questions that can be debated by mothers and daughters: If I have the ability to help someone, am I obligated to do so? Is it moral to prevent people from dying when that places greater strain on the resources of the world and reduces the quality of life for many? If the government detains someone with special powers can it ever be for their protection or is it always exploitation?
Ada is a family effort, with author McDonald collaborating for editing with her husband and two children. Family members were models for interesting charcoal drawings throughout, and the McDonalds created their own publishing house, House of Lore, to print it. While that means the format and conventions don't always follow those of a traditionally published book, the story is reasonably well told and the issues are important to discuss. This is the first in a new series.
Save