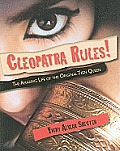 Cleopatra Rules! The Amazing Life of the Original Teen Queen by Vicky Alvear Shecter is sure to be a hit with anyone who is interested in learning more about the real story of Cleopatra, her life, and the times she lived in. This nonfiction book combines modern references with ancient facts while questioning the motives of the Roman historians who wrote much of what has come down through history of this most famous Queen of Egypt..
The book starts by asking readers three questions: Was the last queen of Egypt an evil, gorgeous woman dripping with jewels? A power-hungry temptress trying to rule the world? A pharaoh with a small snake problem? How about none of the above?
From there it goes into each phase of Cleopatra's life, beginning when she was a child and going through her life with Julius Caesar and Marc Antony until her death. Each chapter is full of interesting facts that are illustrated with photos of ancient artwork, maps, drawings and more. The chapters are short and read quickly, but they are chock-full of information.
The tone is fun and irreverent throughout, but there's no doubt the facts are accurate. To back up her text, Shecter has extensive endnotes on each chapter, a timeline of events, a glossary, and a bibliography of sources. Cleopatra Rules! should be a great way to bring history to life for middle-grade readers.