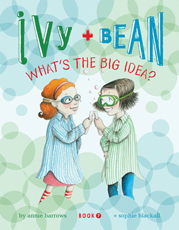 Ivy and Bean are friends even though they are opposite in many ways. Bean is loud and rambunctious and full of crazy ideas. Ivy is quiet and thoughtful and often willing to help Bean try out some of her wild plans.
When they come together to work on a science project in Ivy + Bean: What's the Big Idea, they are determined to find a solution for global warming.
I loved how the two girls started coming up with ideas for how they could help global warming without asking adults first whether their solution was really workable or not. The things they and their classmates dreamed up seemed exactly like what second-graders would come up with. The kids in Ivy and Bean's class had family members holding their breath to cut down on carbon dioxide, built robots that attacked litterbugs, and threw ice cubes in the air to cool down the atmosphere.
And as a parent veteran of quite a few science projects myself, I was interested to see that the projects were all child-conceived and child-driven. From my experience, that's rarely the case in school science fairs. The drawings illustrate the action beautifully, and show some of Bean's whimsical imaginings too. This is the seventh book in the popular Ivy + Bean series, which is written by Annie Barrows and illustrated by Sophie Blackall. It's sure to please young readers just as much as the previous titles.
Save
Save