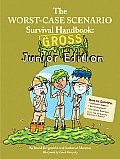 Lots of kids love gross stuff. They may learn to be polite and hide their fascination with body fluids, creepy bugs and germ-ridden places, but that doesn't mean they're less drawn to reading about them. Which is why lots of kids will also love the latest addition to The Worst-Case Scenario Survival Handbook series—Gross Junior Edition.
Before I even picked this book up to read my daughter was already quoting tidbits she had gleaned from its pages, like the types of burps listed in the Burp Classification System and advice on removing a tick.
The gross scenarios to survive are divided into four chapters that cover situations with the human body, at home, at school and in the wild kingdom. Parents may even want to refer to this handy little guide when they have to deal with gross things like getting rid of lice and dealing with an infestation of flies.
Fast facts like this one are scattered throughout: "While most bacteria and viruses need moisture to survive, some germs can live in a piece of ABC gum for up to a year." With recipes at the back for fake blood, vomit, poop and snot, this handbook may even inspire kids to head to the kitchen for a little experimental cooking.
Profiles of authors David Borgenicht, Nathaniel Marunas, and Robin Epstein, and illustrator Chuck Gonzales are listed in the back alongside bios of the scientists and experts consulted to compile the material. This book is a sure-fire winner with any kid or adult fascinated by the gross stuff all around—that means most of us.
Save