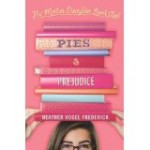 Fans of Heather Vogel Frederick's Mother-Daughter Book Club series (I'm one!) are sure to be happy with her latest book, Pies and Prejudice. This year the book club girls are adjusting to high school and reading Jane Austen's Pride and Prejudice with their moms. And just as Elizabeth Bennet and Mr. Darcy discover that you can't always judge someone by first impressions, the book club girls are finding out how true that can be in real life as well.
Some of those first impressions are made when Emma and her family move to England for a year, trading places with another family that moves into their home. As Emma makes new friends, and enemies, the other girls are sizing up the Berkeley boys in Emma's house.
The girls have definitely matured as they have moved on to high school, and each of them gets involved in activities and causes that help them pursue their passions. Cassidy, Megan, and Emma all seem to have a good idea of what's important to them, and it's interesting to read about Jess's journey of self-discovery as she seeks to find what matters to her.  Girls especially, who are often asked at this age what they want to do with their lives, may find Jess's discoveries enlightening.
One of the things I really love about this series is how Frederick ties in facts about the authors her book club is reading. You'll learn a lot about Jane Austen as well as Pride and Prejudice, and that adds to the topics your own book club can discuss. In addition to talking about making judgments from first impressions, you can also discuss limitations put on women in Austen's time, friends moving away, cyber bullying, and finding your passions in life. There's a great list of discussion questions in the back, as well. All the talk about pies will probably also have you ready to bake up one or two or three to share at your book club meeting.
I highly recommend Pies and Prejudice for mother-daughter book clubs with girls aged 11 to 14.