Kim Culbertson's young adult novel, Songs for a Teenage Nomad, features a teen girl, Calle, who uses music to make sense of the events going on around her. The book really struck a chord with me (so to speak), because I also remember turning to music often when I was Calle's age. I recommend Songs for girls aged 14 and up and their moms (see my review and reviews from other readers), and I was especially happy when Culbertson asked if I would write a blurb for the newest printing of her novel, which is releasing this month.
I'm thrilled to be able to share with you the following essay from Culbertson, where she offers her thoughts about how reading books with her mom has affected her writing and other areas of her life. for more information about Songs for a Teenage Nomad, check out Culbertson's website.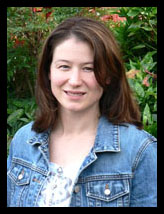 People often ask me where I came up with the idea for my first young adult novel, Songs for a Teenage Nomad. While it would be simple to start with the genesis of that particular story–the way that Calle's story came to me and took hold of me until I wrote it–it would not be the whole story. The whole story is that everything I write is the result of everything I have read up until now, of all the stories over the years that have become the foundation upon which I write. Calle's story started long before I knew I was a writer. It started with the books my mother read to me as a little girl, curled up next to her in the big reading chair by the window.
The other day I took my mom out to lunch. I love going to lunch with my mom and even though we live in the same small town, both of our busy lives don't often give us the spare couple of hours to enjoy a lunch together. But the stars aligned that day and I found myself sitting across the table from my mom and talking about the books she used to read to me. There were ones I remembered instantly–the Dr. Seuss, Where the Wild Things Are, Amelia Bedelia, the Frances books–and there were others I hadn't remembered reading. But what I realized as she and I spoke was that I didn't really have a favorite book. Rather, it was the collective of all these stories and characters and words that really made me first a reader and, later, a writer. It was the sum of all these books that mattered. I remember crawling into the chair next to her and letting her voice wash over me, the pictures wide in front of me, and there was something in the closeness of our reading together that made it a safe space for me. I feel it now when I read to my own daughter, that intimate bubble that being read to creates.
In Songs for a Teenage Nomad, Calle's story is both a unique and universal one–my little added voice to that collective of story that I grew up building. It's why books matter so much to me–each one so special–because they have always built that safe space for me, the space that started in my mother's lap.
Save