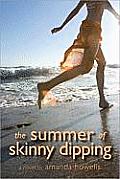 Mia can't wait to get to her cousin Corinne's summer house on Long Island. Even though Mia lives in Georgia, the two girls have always had a special bond. But when Mia arrives on Long Island, she can tell right away that this summer will be different. Corinne acts like she's too cool for Mia, and she's invited another friend to stay at the beach house over the summer.
When Mia realizes that Corinne and her friends are into alcohol, drugs and sex, she realizes that she must decide if she'll go along to fit in. Yet she's unsure if she's strong enough to reject her cousin and go it alone. Then she meets Simon, who's staying at a house next door. Simon challenges Mia in unexpected ways.
The Summer of Skinny Dipping by Amanda Howells explores lots of issues teens face and places them in the world of the wealthy few who own beach homes on Long Island. Issues that come up include teen alcohol and drug use, parents who are too involved in their own issues to notice what their kids are doing, first love, rejection, and fitting in. Many of us can relate to Mia's desire to be part of the crowd and her discomfort with doing the things that will make her seem cool. She's not averse to breaking the rules, but she's not sure which rules she's willing to break either.
As Mia's road of discovery unfolds, she realizes that people with seemingly perfect lives can be hiding deep problems, and others admire the very things she feels insecure about. The Summer of Skinny Dipping will make you wish for days with nothing to do but lie on the beach and read while giving you issues to think about. I recommend it for girls aged 15 and up.