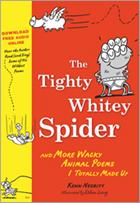 Just in time for National Poetry Month, beloved children's poet Kenn Nesbitt has a new collection of poems called The Tighty Whitey Spider and More Wacky Animal Poems I Totally Made Up. Perfect to read out loud with your son or daughter, these poems will have you both giggling about the silly antics Nesbitt's animals get up to.
I couldn't resist such playful titles as "My Kitten Won't Stop Talking," "My Chicken's on the Internet" and "Beavers in the Bathroom." Nesbitt often ends each poem with a play on words that's sure to appeal to younger readers. Ethan Long's illustrations are fun to look at, too. The expressions on his animal faces match the action in each poem perfectly. I particularly liked his smug-looking flying pigs and grim-faced goldfish in a military-style tank.
Readers can also download companion audio tracks of Nesbitt reading quite a few of the poems himself. It's quite a treat to listen to Nesbitt read while you follow along with the words and illustrations in the book. Instructions for downloading the tracks, which can be played in iTunes, Windows Media Player, Quick Time, and any other player that supports mp3 files, are included at the beginning of The Tighty Whitey Spider.
You can also check out Nesbitt's great poetry website, http://www.poetry4kids.com. And Nesbitt's collection called My Hippo Has the Hiccups is available for a free download or viewing online with audio tracks.
The Tighty Whitey Spider is exactly the kind of book my daughter would have loved when she was in elementary school. I can't think of a better way to help younger children develop an early appreciation for poetry than reading Nesbitt's poems.